Region - City - University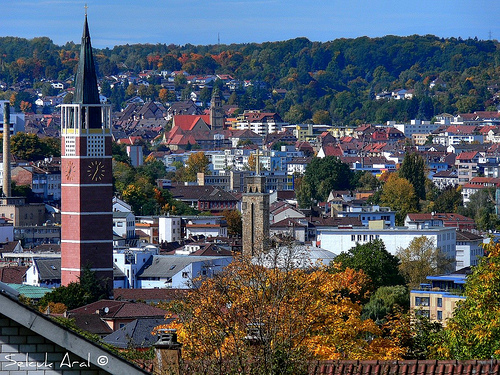 Pforzheim is situated between the cities of Stuttgart and Karlsruhe, in the state of Baden-Wuerttemberg in Southwest Germany. It is also known as the Northern gateway to the Black Forest. Southwestern Germany is one of the most important economic regions in Europe. Global companies such as Daimler, Bosch, IBM, Hewlett-Packard, Michelin, Porsche, etc. are located in this area. Pforzheim itself is famous for its jewelry. Being the center for the German jewelry, watch and silver goods industry, Pforzheim is also known as the "Goldstadt" (Gold City).
The three rivers Enz, Nagold and Wuerm flow through the city. The attractive riverbanks and parks are perfect for an enjoyable walk, for jogging activities, inline skating or merely for taking some time out, especially in the summer months. The sunny "Goldstadt" with approximately 117.000 inhabitants also has its cultural highlights: a theater, "Kulturhaus Osterfeld", the unique jewelry museum and SCHMUCKWELTEN Pforzheim representing an international center for jewelry and watches, just to mention a few attractions.
Numerous student cafes, clubs and of course the popular student parties at Pforzheim University make student life attractive.
Pforzheim is surrounded by a fantastic natural landscape offering various leisure activities. Not only spa towns and health resorts such as Bad Liebenzell and Bad Wildbad are located here but also the northern Black Forest, a great region for hiking and skiing – a popular place for e.g. excursions in the winter semester. Interesting destinations for weekend trips are France (the Alsace region), Switzerland and Lake Constance.