Student Initiatives at Pforzheim University
The initiatives at Pforzheim University aim to enrich everyday university life and provide practical experience in various fields of study:
    Events
    Workshops
    Orientation phase
    Subject-specific projects
    Practical tasks

To make sure you don't miss anything, you can find all the dates here: Calendar of Initiatives
Our Student Initiatives:
The Börsenverein Pforzheim is a student initiative with the goal of imparting knowledge about the financial markets to its members.
For this purpose, we offer every semester the stock exchange license, in which you receive basic knowledge about the financial markets in interesting events. After these events there is the possibility to write a small test, where you will receive a certificate if you pass successfully.
Further information about the stock exchange license can be found in this video: https://www.youtube.com/watch?v=VPql429KnsA
In addition to the stock exchange license, the Börsenverein offers a lot more:
    Expert lectures (Blackrock,...)
    Workshops (bank training in one day,...)
    Excursion to the Stuttgart stock exchange
    Regular meetings, the so-called "Stammtische"
If you want to know more about us, just visit us on Facebook:
https://www.facebook.com/BoersenvereinPforzheim?ref=hl
or send an E-mail to: info[at]boersenverein-pforzheim[dot]de
CLOSE
Campus X - an initiative that offers you (almost) everything!
We see ourselves as a bridge between companies and students. And the best thing is that we have even more to offer than that!
Campus X is a student initiative that was founded in early 2003 and today has over 80 members. Entrepreneurship is a big part of our philosophy, because we act like a real service company. Every team member is important here and we offer a personal career network for this - despite the fact that you are still at the very beginning. And then there are parties, cool people and a good time!
With us, every course of study is welcome, because we have the ideal job for everyone. Are you an organizational talent? Then join our Orga-Team. You can express yourself very well and are very creative? Then the Marketing/Public Relations/X-PRESS team is the right place for you. Or are you tech-savvy? Maybe the IT and Social Media Team is the best choice for you. But that's by far not all!
Our tasks include:
Planning and implementing X-DAY, the company contact fair at Pforzheim University (the heart of our  initiative)
Publishing the "X-PRESS - the magazine of Campus X
Organizing X-TALKs, workshops and seminars that are designed to prepare students for professional life or provide support during lectures
Organization of events and internal meetings
Organizing the legendary "Campus X meets Como" party
If you are looking for an opportunity to fulfill yourself outside of your studies, then apply to join us. In return for an application you will get a bunch of nice people, a great team, awesome office parties as well as all kinds of other events and a lot of fun.
At the beginning of each semester we organize our information evenings. Are you interested? Then come by when the next one takes place! We are looking forward to seeing you!
Your Campus X Team
E-Mail: info[at]campusx[dot]org
Web: campusx.org
Facebook: www.facebook.com/campusx.pforzheim
CLOSE
Who we are:
Commeo is a student association by students for students. Our main task is to organize and carry out events at the university and in many locations in Pforzheim.
The initiative consists of about 50 active members, who come from all courses of study and semesters.

Our main events include:
The Newie-Party (the biggest event in the semester, where we get all new students on board)
The O-Phase (introduction weeks for the newies)
Nachtrauschen (pub crawl through Pforzheim's bars and clubs)
Internal university events (award ceremony, speed dating on study information day)
End-of-semester parties, etc.
Internally, we also do a lot of activities, further education and have fun.
Who we are looking for:
You should have a desire for parties and want to get involved in an initiative.
You want to come up with ideas and creative contributions to our events and enjoy organizing event.
You want to get to know the nightlife of Pforzheim from the other side and make many connections with the bar and club scene.
You are looking for new friends besides your studies, who will soon become your family.
We have aroused your interest? Great! Then just drop by the initiative office (W1) or our info evening and learn more about us over pizza and something to drink.
It will be the best decision you will make in your studies.
You can find more information about current events and projects on Instagram (commeo_pf) and Facebook (commeo e.V.).
We hope to meet YOU soon!
E-mail: info[at]commeo-ev[dot]de
Phone: 07231 28-6335
CLOSE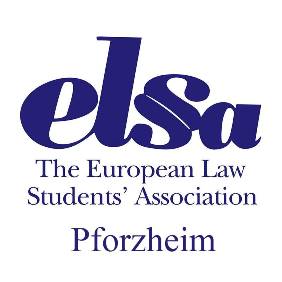 ELSA, The European Law Students' Association, is the world's largest law students' association and offers law students, trainees and young lawyers the opportunity to get involved and further their education. International understanding, the education of socially competent lawyers, academic work and practical relevance are the cornerstones of ELSA's self-image.
As a pioneer in university education, ELSA offers both academic and highly practical activities during studies, including experience abroad, international communication, organization of projects and soft skills.
Through intensive exchange on a European level, ELSA enables law students from all over Europe to get in touch with each other and become active together. The members of ELSA-Pforzheim e.V. also benefit from the Europe-wide network with 30,000 members at over 220 universities in 41 countries."
E-Mail: elsa[at]hs-pforzheim[dot]de
Facebook
CLOSE
Gemini is an independent student initiative that takes care of exchange students at HS Pforzheim.
What does that mean? The whole initiative is divided into four different teams: The Buddy Team, the Event Team, the Excursions Team and the Marketing Team. So there should be something for everyone!
Our Buddy Team ensures that every foreign student is assigned a German Buddy (i.e. a twin, Latin "gemini"). This person takes care of his exchange student before the semester starts, answers questions and helps him to find his way in Germany. However, it is not a requirement to be a Gemini member to be selected as a German buddy. During the semester, the buddies can of course decide for themselves what and how much they want to do together. However, some friendships have already developed here and fun is guaranteed in any case.
The Event Team is responsible for entertaining the exchange students through various events at the university and encouraging them to exchange ideas and meet new people. For example, the so-called speed dating at the beginning of each semester is great fun, where Germans and internationals can get to know each other intensively. We decide every semester which events we will hold. Your creativity is in demand!
If you prefer to organize and carry out trips to the surrounding area or multi-day excursions to larger German cities, the Excursion Team is certainly the right place for you. Here, too, we are always looking forward to new ideas and exciting destinations!
Our Marketing Team is also looking forward to creative minds who like web design, study advertising or just want to promote Gemini and bring it to the public.
What do you get out of working at Gemini?
Getting to know other cultures, intercultural exchange
Improve your language skills (especially English, Spanish, French)
How much time you contribute is entirely up to you
...and of course it is a lot of fun!
If you are interested in joining us, just contact us by e-mail.
We are looking forward to you!
E-Mail:gemini[at]hs-pforzheim[dot]de
Homepage: https://www.gemini-pforzheim.com/
CLOSE
You want to become a recognized student initiative?
In the following document (in German) you will find some information about the application and recognition process.