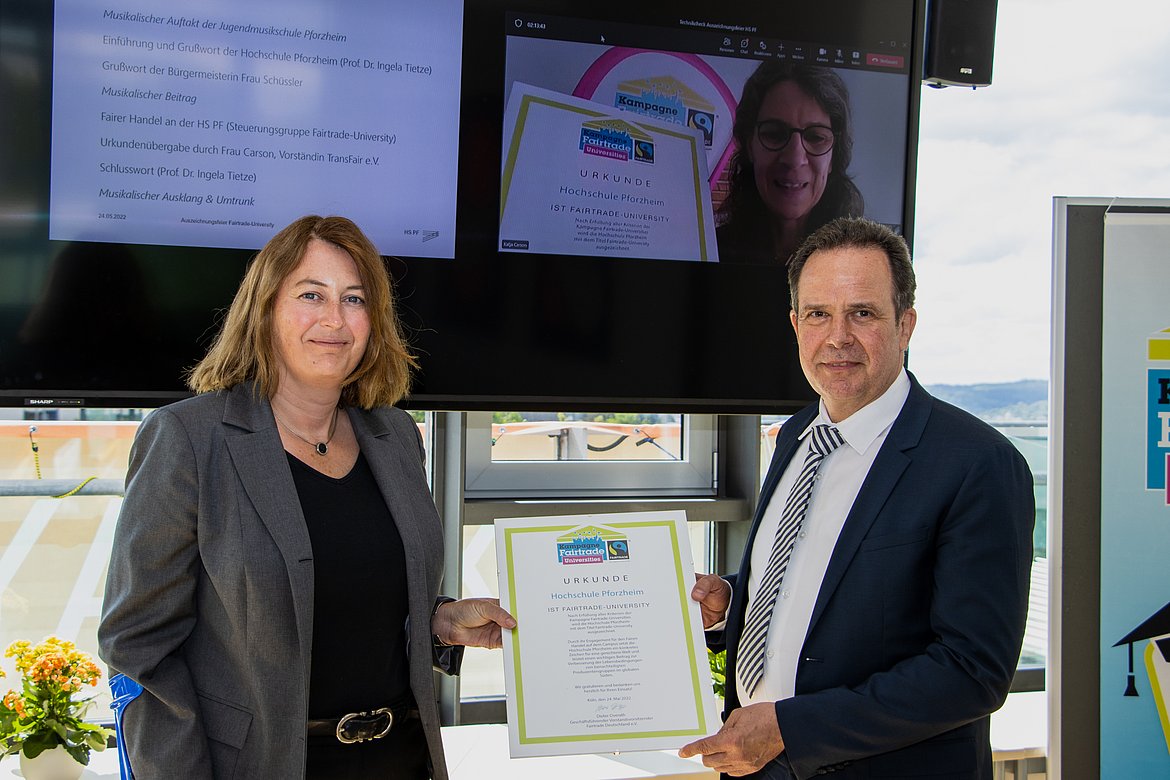 Prorektorin Prof. Dr. Ingela Tietze und Rektor Prof. Dr. Ulrich Jautz freuen sich über die Auszeichnung als Fairtrade-University, die Ihnen Katja Carson per Video-Schalte überreichte. Foto: Cornelia Kamper / Hochschule Pforzheim
Award thanks to sustainable commitment to fair trade
Pforzheim University has been recognised as a Fairtrade University. During a hybrid ceremony on Tuesday, the lead prorector, Professor Dr. Ingela Tietze, was able to accept the award on behalf of HS PF. The successful application to be a Fairtrade University is the result of years of commitment to sustainably anchor the topic in the university. A process in which the university itself, student initiatives, the city of Pforzheim and last but not least the university catering, represented by the Studierendenwerk Karlsruhe, were involved.
"The award as a Fairtrade University is the result of the cooperation of a wide variety of actors at Pforzheim University and we are especially proud of the support of our students during the qualification phase," Ingela Tietze said happily at the award ceremony.
Professor Dr. Ulrich Jautz, Rector of Pforzheim University, is pleased that with the help of Ingela Tietze, the university has not only become more sustainable, but also more sensitive to fair trade. "Fairness in all areas is part of our self-image. For me, being a Fairtrade University means that we are on the right track to properly meet the challenges of the future and live up to our responsibility as a university," said Jautz.
Katja Carson, board member of Fairtrade Deutschland e.V. and a native of Pforzheim, symbolically presented the certificate via video link. "As social actors, universities are important drivers of social, ecological, cultural and economic development," said Carson. "Fairtrade universities actively take on this role and implement fair trade with all its aspects firmly in everyday university life. You as Pforzheim University fully meet all five criteria and therefore it is a special pleasure for me to award you for your commitment today."
Sibylle Schüssler, Mayor for Planning, Building, Environment and Culture of the City of Pforzheim, extended her warmest congratulations with a word of greeting and referred to the many fields in which the city and the university were already cooperating successfully. "Fairtrade Town Pforzheim and Fairtrade University Pforzheim now have another common theme. Let's work together here as well," said Schüssler, looking forward to the further exchange.
Fairtrade Universities are universities throughout Germany that actively promote fair trade. The campaign is supported by Fairtrade Germany and aims to promote awareness of fair trade as well as to anchor education for sustainable development in the university landscape.