IAF vergibt Forschungspreise 2021
Weitere Auszeichnungen im Rahmen des Sommerfests der HS PF verliehen
Weitere Auszeichnungen im Rahmen des Sommerfests der HS PF verliehen
Das Institut für Angewandte Forschung (IAF) der Hochschule Pforzheim lobt einmal jährlich den IAF Research Excellence Award (IAF Forschungspreis) für Professorinnen und Professoren, Mitarbeiterinnen und Mitarbeiter sowie Studierende aus, die herausragende Forschungsarbeiten abgeliefert haben. IAF-Leiter Professor Dr. Thomas Greiner und sein Team haben die Preise im Rahmen des Sommerfests der Hochschule Pforzheim verliehen. "Es sind wieder herausragende Arbeiten und Aktivitäten im vergangenen Jahr entstanden. Das belegt das hohe Forschungsniveau an der Hochschule Pforzheim", leitete Thomas Greiner die Preisverleihung ein.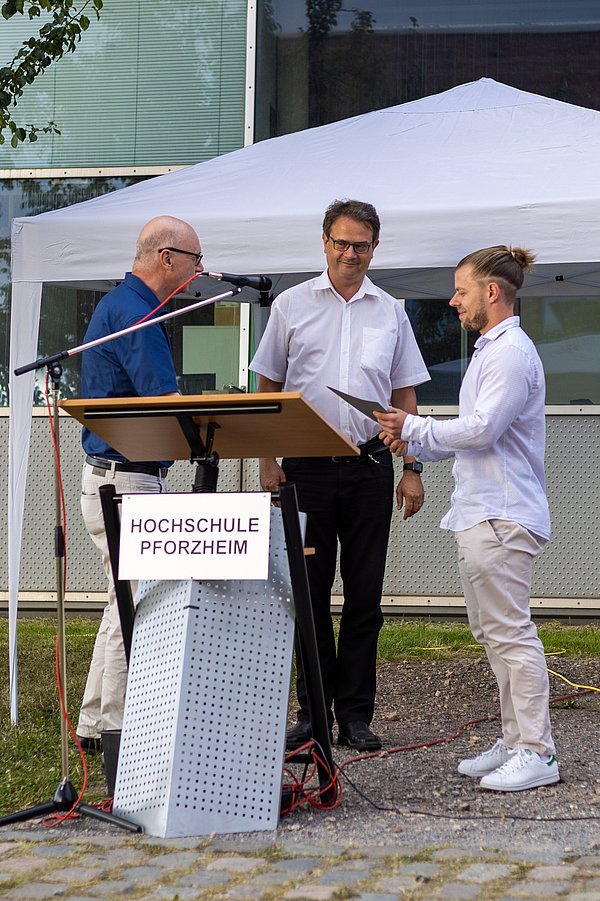 Foto: Cornelia Kamper / Hochschule Pforzheim
Der IAF Forschungspreis 2021 in der Kategorie "Studierende" geht in diesem Jahr an Andreas Berlet. Er erreichte mit seiner Masterarbeit "Konzept für ein Assistenzsystem für Lokalisierung von Störungsursachen in Prozessanlagen mit Hilfe von objektorientierten Topologiemodellen" exzellente und relevante Forschungsergebnisse.
Die Arbeit entstand im Masterstudiengang Mechatronische Systementwicklung. Professor Dr. Rainer Drath überreichte ihm seine Auszeichnung. "Ein besonders hervorstechendes Ergebnis im Anschluss an diese Masterarbeit ist ihre Publikation und Auszeichnung: Die Ergebnisse der Arbeit wurden unter Federführung von Herrn Berlet in einem Konferenzpaper auf der ETFA 2021 veröffentlicht, präsentiert und dort mit dem ETFA 2021 "best paper award" ausgezeichnet.
Allein die erfolgreiche Publikation seiner Forschungsergebnisse ist für unsere Absolventen selten. Die Auszeichnung mit dem besten Paper der Konferenz ist jedoch exzellent", hob Drath die Qualität der Arbeit von Andreas Berlet hervor.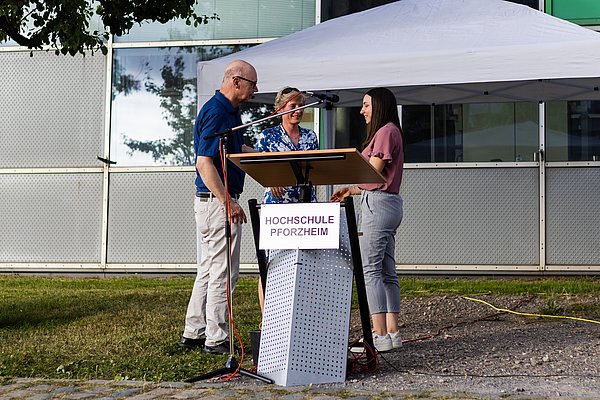 Foto: Cornelia Kamper / Hochschule Pforzheim
Ebenfalls in der Kategorie "Studierende" war Sonja Kappler erfolgreich. Sie hat im Sommersemester 2021 ihre Thesis zum Thema: "Impacts of Covid-19 on the airline industry and the flying behaviour of Millenials – Will the flying behavior of Millenials be significantly affected by Covid-19?" auf sehr hohem Niveau verfasst.
Die International Business-Studentin wurde von Professorin Dr. Kerstin Bremser geehrt. "Bereits im Laufe der Betreuung wurde klar, dass Sonja Kappler eine Thesis auf sehr hohem Niveau schreibt. So hoch, dass ihre Ergebnisse als Beitrag beim "6th World Research Summit for Hospitality and Tourism" eingereicht wurde. Es stellt eine besondere Auszeichnung der Arbeit von Frau Kappler dar, dass ihr Abstract für die Konferenz akzeptiert wurde", attestierte ihr Kerstin Bremser.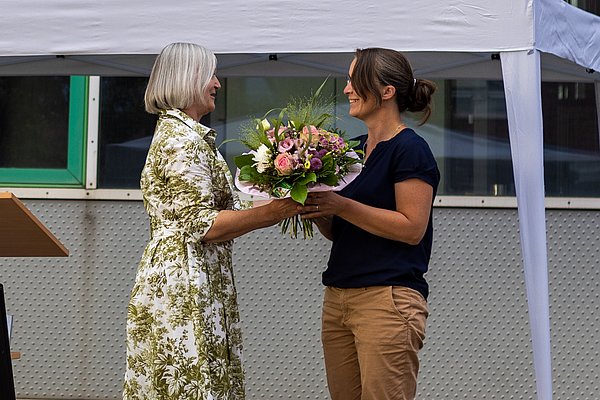 Foto: Cornelia Kamper / Hochschule Pforzheim
Den Research Excellence Award in der Kategorie "Mitarbeiterinnen" erhielt Dorien Korbee (PhD). Sie ist Senior Researcher im EU H2020-Vorhaben AVENUE und nimmt hier eine zentrale Rolle bei der inhaltlichen Ausgestaltung als auch beim Projektmanagement ein.
Professorin Dr. Gabriele Naderer zeichnete sie stellvertretend für das AVENUE-Team aus. "Dorien Korbee hat für den Gesamterfolg des AVENUE-Vorhabens seitens der Hochschule Pforzheim einen signifikanten Beitrag geleistet. Ohne ihre aus vorherigen wissenschaftlichen Arbeiten und EU-Projekten mitgebrachten Erfahrungen und ihr Organisationstalent würde der Forschungserfolg des Vorhabens deutlich kleiner ausfallen", sparte Naderer nicht mit Lob. Besonders herzlich fiel die Auszeichnung auch deshalb aus, weil Dorien Korbee die Hochschule verlässt, um sich neuen Herausforderungen zu stellen.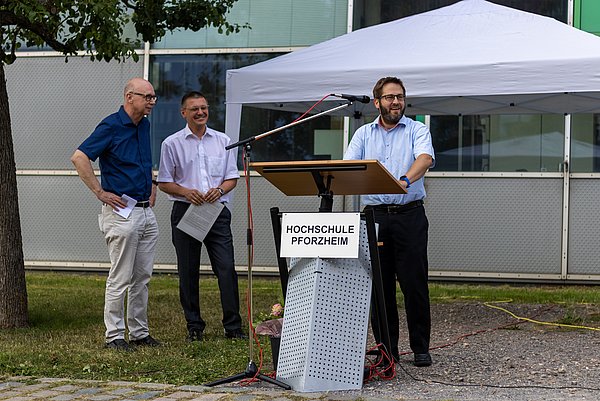 Foto: Cornelia Kamper / Hochschule Pforzheim
Last but not least bekam Professor Dr. Kai Oßwald den IAF Forschungspreis in der Kategorie "Professor". Der Professor für Fertigungsverfahren wurde von seinem Kollegen Professor Dr. Jörg Woidasky ausgezeichnet. "Kai Oßwald hat in den vergangenen Jahren konsequent und zielgerichtet seine Forschungsaktivitäten aus- und aufgebaut und dabei seine Lehr- und Forschungsthemen sinnvoll miteinander verzahnt.
Ausgehend von seinem Fokus auf abtragende Fertigungsverfahren hat er seine Forschungsthemen in Bereiche wie etwa Anwendung künstlicher Intelligenz zur Signalauswertung ausgedehnt und es so verstanden, seine Arbeitsgruppe auf mittlerweile drei Mitarbeiter auszubauen", lobte Woidasky bei der Preisverleihung.
Der Lehrpreis 2022 ging an den wissenschaftlichen Leiter des Weiterbildungsprogramms, Professor Dr. Sascha Wolf. Dieser nahm den Preis gut gelaunt aus den Händen von Prorektor Professor Dr. Hanno Weber entgegen.
"Ich fühle mich sehr wohl an der Hochschule Pforzheim und bin dankbar für diese Auszeichnung", sagte Wolf. Laudator Hanno Weber hob das Engagement von Wolf hervor. "Durch Ihre Art sind Sie bei Kolleginnen und Kollegen wie Studierenden gleichermaßen sehr geschätzt", so Weber.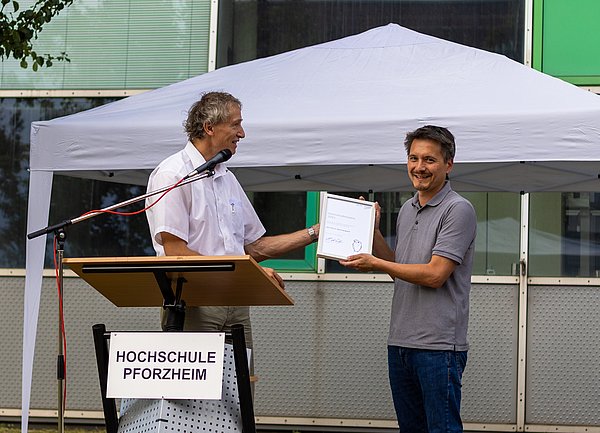 Foto: Cornelia Kamper / Hochschule Pforzheim
Foto: Cornelia Kamper / Hochschule Pforzheim
Ebenfalls im Rahmen des Sommerfests verlieh Rektor Professor Dr. Ulrich Jautz den Perspektivenpreis der Hochschule an den Kollegen Professor Dr. Bernhard Kölmel. Dieser habe mit viel Energie und Erfolg im Rahmen eingeworbener Projekte die Vernetzung mit der regionalen Wirtschaft, insbesondere beim Thema Innovationen vorangetrieben. "Das ist ein Kernbestandteil unserer Hochschule und deshalb freue ich mich ganz besonders, diese Auszeichnung überreichen zu dürfen", sagte Jautz.
Kölmel bezeichnete die Vernetzungsaktivitäten als "Herzensangelegenheit" und betonte die Teamleistung an der Hochschule. "Einen Erfolg wie diesen Preis kann man nie nur alleine erreichen", unterstrich Bernhard Kölmel zum Abschluss.